Software

Land Spill Model and Analysis System
OILMAPLAND
is a land and surface water spill model system for simulating oil and chemical releases from pipelines and storage facilities. OILMAPLAND fills the need for a numerical modeling tool for oil and chemical spills that occur on land and then migrate to streams and lakes.
OILMAPLAND
Meets federal hazardous pipeline safety regulations
Hindcasts/forecasts spills for response actions and training
Aids oil spill contingency planning
Supports oil spill response drills and education
Features
Models oil and chemical movement across land, in streams lakes and canals
The model runs within a stand-alone GIS or as an extension to ArcGIS® for complete integration with existing facility data, High Consequence Area data, terrain models and surface water networks
Provides a quantitative assessment of a potential worst-case release from a pipeline or other facility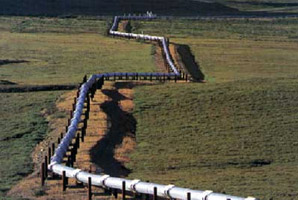 OILMAPLAND Model Highlights
World-wide capability
2D and 3D capability
Models spills that occur on land and migrate to streams and lakes
System overlays model results with HCA's and other GIS data
Utilizes ArcGIS® tools for buffering and spatial overlay analysis
Creates maps for use in management plans, alignment sheets and other documents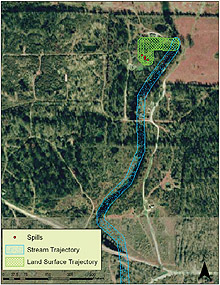 OILMAPLAND is a valuable tool for addressing the requirements of the Pipeline Integrity Management Rule (49 CFR 195.452). Because it is GIS-based, it can be fully integrated with National Pipeline Mapping System data collected by the Office of Pipeline Safety or with corporate spatial databases. The spill model enables quick identification of pipeline segments with potential to impact HCA's and aids development of integrity management and baseline assessment plans. OILMAPLAND also assists in the development of spill response and training scenarios and in conducting tabletop response exercises.
Land Spill Model
&nbsp The model calculates the overland flow of oils and chemicals from point
&nbsp source releases.
&nbsp Processes modeled include:
Spreading
Evaporation
Infiltration
Depression storage
&nbsp Mass balance calculations allow for the product spilled and accurate
&nbsp determination behavior of the oil or chemical.
Surface Water Model
Spilled hazardous liquids frequently travel only short distances overland before they enter a stream or a lake. The OILMAPLAND model system determines the path and physical fate of the spilled oil or chemical once it enters the surface water system. Processes modeled include:
Evaporation
Stream shoreline oiling
Model Interface
The OILMAPLAND extension easily integrates with existing pipeline and facility spatial data sets. OILMAPLAND provides numerical modeling capabilities for all kinds of hazardous liquid spills from land-based pipelines and facilities.
Other OILMAP Applications
OILMAP
rapidly generates predictions of the movement and weathering of spilled oil
OILMAPDEEP
Provides rapid predictions of the movement of spilled oil from sub-sea releases.